PaperKarma
The passion with which they've worked on our project made it seem like it was their own. They've been totally engaged and are super smart. Outstanding work in product design, development, QA and all around execution.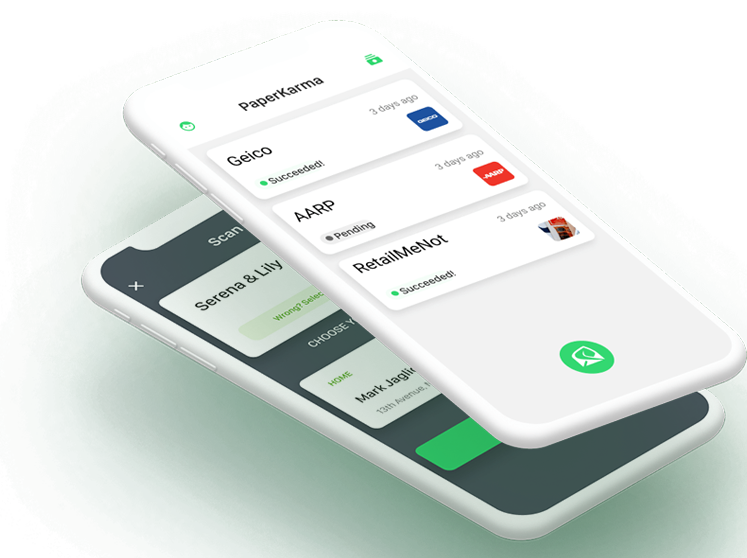 Services provided
May 2017 - ongoing
Consulting
Techology consulting, solution architecture and advisory
Maintenance
Maintenance and enhancement
Development
Custom Rails, Node.js and Elixir development
IT management
Full scope IT management / external CTO role
Tech Stack















The history
PaperKarma is a unique smartphone app that helps people stop physical junk mail from flooding their home and work mailboxes. Originally launched almost a decade ago, it was ahead of its time and an instant hit with green-minded customers and tech media alike. After launching, the app quickly rose to fame, acquiring a significant user base and garnering media attention, while raising $8 million in funding before ultimately being acquired by a third party.
Unfortunately, just a couple years later, the project was stuck in a limbo. Having fallen out of the new owners' plans and roadmap in recent years, by 2017. it was announced to shut down by end of year. The future for this amazing green friendly app was looking bleak.
Fortunately, as long time users and fans of the app, our client was among hundreds of vocal customers who were heartbroken to see it shut down.
Being aware of the impact and potential of the app, the client decided to acquire PaperKarma to save it from forced retirement and restore it to its previous glory.

The project
Having acquired the project, PaperKarma chose KNB as the core technology partner to assist in the takeover and relaunch of the project. When we started working with the new PaperKarma team in May 2017, our first goal was to make the "heart" of the system functional again. Purchased on an asset-sale basis, the whole project was a black-box and required a diligent 'all hands on deck' approach to untangle the legacy infrastructure, the underlying code, and technical landscape in general.
The previous owners of the app stopped working on it a long time ago, and many functionalities and systems that powered the app were not working. We were happy to accept the challenge and our cooperation with PaperKarma kicked off.
Out of the shadows – into the app stores

In the first two months, our team worked hard to unravel the underlying black box labyrinth and get all parts of the backend systems operational. Despite the underlying complexities that we encountered as a result of a mix of a long product hiatus, multiple programming languages used for the backend systems, complex over-dimensioned and outdated infrastructure and other significant limitations, we were able to move fast. Working with the PaperKarma management and mobile development teams in an agile, no-nonsense goal driven manner – shortly thereafter – PaperKarma was reborn.
Once the ship was sailing again, we were ready to take on new challenges awaiting us ahead.
Cutting the overhead
One of the next challenges was optimizing AWS infrastructure and spend in parallel with delivering on the core roadmap functionality. Through a series of iterations, we have optimized the underlying infrastructure cutting operating costs by more than 66%, while at the same time bringing it up to date and removing unnecessary complexity where ever we encountered it.
Improving user satisfaction and results

As a consumer facing product, one of the key success factors is making the experience intuitive, simple and seamless for the customer. Among many improvements and features delivered, one of the key highlights was improving the automated sender detection, part of the core functionality of the app. During our initial work on optimization and extension of the PaperKarma custom optical recognition engine, in two development cycles we improved the accuracy from the initially inherited 25% success rate to over 85% success rate for first-match scanning, and over 90% in total. This directly translated into better user satisfaction, less manual work for the PaperKarma team and an overall improvement of the success rates for PaperKarma customers.
Innovation, automation and growth
To further improve the product, more substantial changes were necessary. Driven by our close cooperation with the PaperKarma management and mobile teams, we have suggested and executed numerous initiatives to drive customer satisfaction and revenue growth. Among other things, we developed and implemented a centralized subscription management system for iOS and Android apps, as well as the user-facing web platform, integrated an eCommerce system to sell and manage subscriptions directly, developed numerous additional tools helping improve all aspects of the product and improving customer satisfaction and client staff productivity. Automating where it made sense, improving where possible and supporting growth, we are happy and privileged to be a part of this exciting journey.

The show goes on, one piece of junk mail at a time
PaperKarma keeps experiencing continuous growth in all aspects from revenue and user satisfaction to ever growing set of features and tools that enable it to reduce the junk mail burden for their customers. Operating costs are down, customer satisfaction is up and revenue keeps breaking records as we move through this journey together, tackling the junk mail problem the only way possible – one piece at a time.
As a testament to the importance and the impact of PaperKarma, it has been featured on Apple App Store numerous times each year since relaunch and has again been praised and featured in media outlets and on social media continuously. We are happy to keep working with the client and look forward to new opportunities and challenges while working on this wonderful and high-impact product.